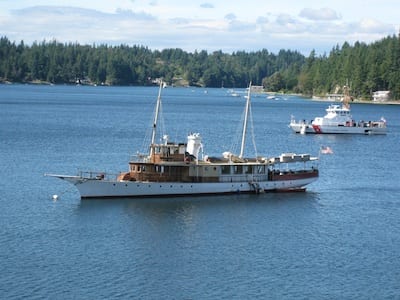 By Nancy Covert
A sleek, 130-ft yacht, seen frequently in Commencement Bay in the early 1900s, has returned to lower Puget Sound as part of the 2013 Maritime Fest.
Built in 1893 in San Francisco, El Primero first came to Tacoma in 1906 when Chester Thorne (who had Thornewood Castle on American Lake built in 1911) purchased the vessel from San Franciscan Edward Hopkins. Five years later, ownership in the iron-clad steam vessel was signed over to Sam Perkins, Tacoma Daily Ledger Publisher. Over time, the yacht became known as "Tacoma's Party Boat."
The yacht arrived in Puget Sound this past weekend for a preview at Long Branch.
Learn more about the history of this colorful yacht by visiting it this weekend at the Foss Waterway Seaport and Thea Foss Park. The free maritime fest runs Aug. 24-25. More details at www.maritimefest.org