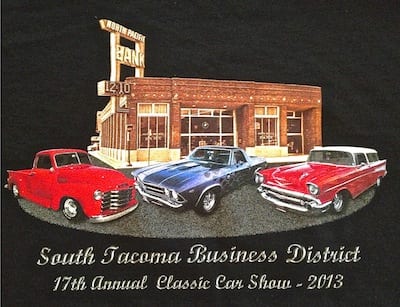 Story & Photo – Joseph Boyle
It's coming!  Saturday, August 17, 2013, from 10 am – 4 pm, the 17th Annual South Tacoma Way Business District Car Show. Find the fun on South Tacoma Way between 50th St South and 56th St South.
The South Tacoma Business District Association and corporate sponsor, Heritage Bank, along with the generous contributions of many area businesses and volunteers, sponsor this free popular event.  That is right.  I said FREE EVENT.
It is great family friendly fun with several hundred cars, plus a motorcycle or two, music, dancers, entertainment, games for kids, prizes, vendors, food, refreshments, sidewalk cafes, trophies, plaques, raffle, shops and a chance to run into your friends.
If you have a classic, collector or novelty vehicle, think about entering your car into the show.  We would enjoy seeing your really cool vehicle. $2.00 from every entry fee is donated to the community food bank.
You can check out registration and all the other details, including a video from last year, by driving your computer to http://www.stbda.com/car_show.htm
See you there.