Tuesday, August 13, 3:30 – 5:00 p.m. community members and businesses are invited to attend a very special reception, a "Meet and Greet" event at Bridgeport Place to support our reigning royalty Ashley Jackson, Miss University Place. Meet Ashley and her mother Roxanne, who are residents of UP.
University Place City Council Member Javier Figueroa has been so impressed by Ms. Jackson that he wanted to step up and support her by hosting a "Meet and Greet" reception at Bridgeport Place and summertime refreshments will be served.  Ashley will be returning to complete her college degree in Salisbury, North Carolina later this month.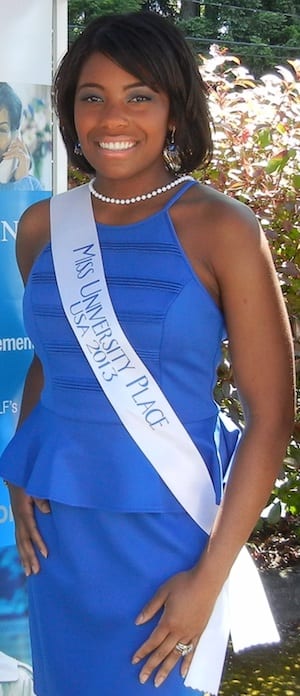 She has served as an intern at the Broadway Center for the Performing Arts, in Tacoma, this summer.  She is an altogether lovely person:  smart, thoughtful, gracious, talented, and with remarkable poise and people skills.  She's already a winner.  Everyone is welcome to attend and encouraged to donate to help Ashley cover her expenses and move forward in the next round of the competition.
The statewide pageant competition for Miss Washington will be held in Seattle during October; Ashley will return from North Carolina for the competition.  RSVP to Javier Figueroa at 253.226.3927 so we can plan for enough refreshments for the crowd.  Bridgeport Place is located at 5250 Bridgeport Way West, University Place, WA  98467.  Http://bridgeportplaceassisted.com