Story & Photo – Joseph Boyle
After retiring on April Fools Day, I fired up my 2003 Harley Davidson Road King motorcycle and down the road I went.  Check out the photo of the hat I custom ordered for all my pals on the ride.  The hat tells it all.  "BAMR – 2013 / Mississippi Delta Blues / XVI.  BAMR stands for "Big Annual Motorcycle Ride" at least that is my definition for a family friendly newspaper.  The "Mississippi Delta Blues" relates to my main ride objective, which was to learn how to play the Blues.  "XVI" is a Roman numeral depiction documenting that this is our 16th annual motorcycle ride having started in 1998.
Leaving everything behind, including all my responsibilities, I rode my Harley 2,450 miles to Clarksdale, Mississippi to attend Jon Gindick's Blues Harmonica Jam Camp.  Check out Jon's website for more information www.Gindick.com especially if you still have an old harmonica left over from your childhood.
Jon is a Los Angeles-based musician, author and wonderfully talented music educator.  I had been watching Jon's web site for 4 or 5 years.  Jon has a proven well honed ability to convert the musically hopeless into the musically hopeful.  Yes, Jon can put you into the groove and you will have fun in the process.
A couple of my pals agreed to accompany me on the ride.  Jim Howe rode out two days from home to the Salt Lake City area before heading back.  It seems he is not able to fritter away all of his vacation time on a motorcycle ride since he has a 25th wedding anniversary coming up this summer.
I made what I considered to be a thoughtful and rock-solid suggestion.  Jim could go on the entire ride if he brought his wife with him and told her the motorcycle trip, the trip of a lifetime, would serve nicely as their 25th wedding anniversary vacation.  I could be right there with them on their anniversary trip to support them in every way.  I just knew my presence would make their anniversary trip very memorable.
Jim would not consider my idea, even for a moment.  Perhaps his judgement style explains why he has been happily married for a quarter of a century.
My pal Drew Dowd, having no conflicts with his wedding anniversary, rode the entire distance.  Drew and I met in the first grade back in 1950.
When we arrived at our destination, The Shack-Up Inn in rural Clarksdale, Mississippi, I was in for some culture shock.  This place is left over from a previous time-warp.  It formerly was a large plantation including what is known as the "company store".  The sharecropper workers toiled in the bossman's fields and then would spend their earnings in the company store which helped facilitate the bossman getting much of his payroll back.
The buildings are very old and dilapidated and are surrounded by years of accumulated farm equipment.
They warn you about that before you come.  It is neat and clean inside, but these living quarters formerly served as housing for poor sharecroppers who worked the farm.  Nothing fancy here.
I will include a couple of photos of the Shack-Up Inn to give you an idea what I am talking about.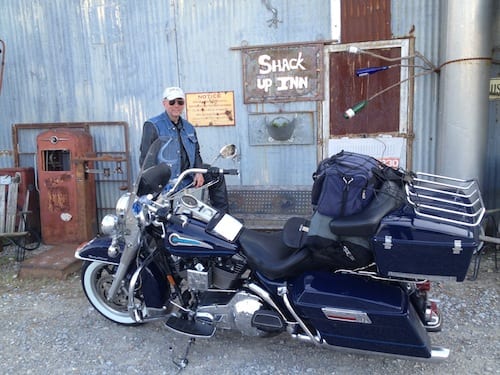 So there I was with 30 other Blues Harp Jam Camp students.  The Inn is set up like a big compound.  We can walk out our back door and across the grassy field to the large meeting building known as the Chapel.  It includes a bar and a stage.  We took over the entire place for this music camp.
There were about 5 "Raw Beginners" including me.  The other students were classified as intermediate and advanced.  Some of the student players were excellent.  All players had fun and made amazing progress including multiple trips to the stage to play and sing with a live Blues band.
The students represented a collection of diverse individuals.  We had a surgeon, judge, lawyer, advertising executive, finish carpenter, retired cop, air traffic controller and the list goes on.  The age range ran from about 25 – 70.  My new friend, Kevin Lacy, who is about 58 and hails from Minnesota, announced that he had never seen so many young old people.
An unusually large number of students came in by motorcycle.  The students travelled from all over the USA plus Scotland, Canada, New Zealand and Australia.
About half the students were returning students.  The repeat students had attended 1 – 4 previous jam camps.
The obvious reason for the high percentage of returning students is because Jon Gindick delivers what he promises.  He leaves nothing out, except for possibly free name tags (Just kidding, Jon.).  The students like what they get and are excited about their musical progress.  Many never dreamed they could be so positively engaged in music.
Each instructor was unique and highly talented.  The instructors were kind and supportive.
While Jon does run his Blues Camp program at various locations around the US, I really wanted to take my first course from his home base in Clarksdale, Mississippi.  The cotton fields, slavery plantations, history of sharecropping, fish fries, front porches and juke joints and cigar box guitars all had their origin in the Mississippi Delta.  The Blues is our only original American art form and it began in the Mississippi Delta.  The Blues later migrated up to Chicago and then all over our country and the world.  The Blues gave birth to Rock and Roll.
If I ever become a Bluesman, it will feel good to have started my Blues life in the Mississippi Delta, the birthplace of the Blues.
The camp ran from Tuesday, May 21, 2013 through Saturday, May 26, 2013.  When the camp was over, we all shed a tear and headed back to our regular lives. But for these 6 days, we were Blues musicians and it felt great.
I love the Blues!