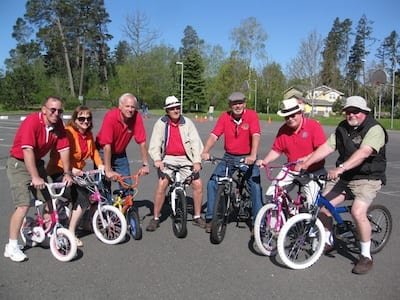 By Nancy Covert
Seat tight? Air in tires? Helmet properly fitted? Check, check and check!
About thirty youngsters took part in the fourth annual kids' Bike Rodeo event on a sunny, blue-sky Saturday morning at Saltar's Point Elementary School. Steilacoom Kiwanians and Key Club members assisted with the event that included a bike inspection, a session with Steilacoom PSO Larry Whelan to inspect the bike helmets, and participating in a six-station bike course. Each child received a "certificate" of completion.
Highlights among the bicyclists included one five-year-old who had so much fun that he went around the course again—and wondered if he'd get a trophy for his efforts.
"Not this year," one of the Kiwanians explained.
Another bicyclist—all of two years old—who'd pedaled up on a very small bike, became really excited when he saw all the "big" bikes waiting! Maybe in a few years' time, his mom told him.
Although none of the Kiwanians had brought their own bikes, they commandeered some bikes to pose for a formal photo in the parking lot.
As a reminder to motorists—always watch for kids—and adults—on bikes.