By David Anderson
Nine-year-old Jada Yeater could help President Obama in court – the basketball court.
Obama went 2 for 22 with the basketball recently with players from the Washington Wizards looking on as part of the annual Easter Egg Roll festivities.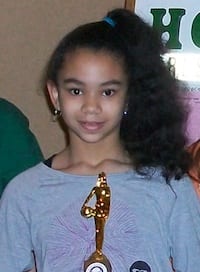 Oakwood Elementary third-grader Jada on the other hand hit 20 of 25 at the Northwest Region's Hoop Shoot contest in Vancouver, Washington this past March 2, thus punching her ticket to Springfield, Massachusetts where she will compete April 20 with 72 national finalists for top honors among kids ages 8 to 13.  National champions have their names inscribed in the Naismith Memorial Basketball Hall of Fame in Springfield.
Jada is sponsored by the Elks National Foundation which each of the last 43 years has encouraged youth from all fifty states to participate in the Hoop Shoot event, Jada joining 2.5 million this last fall.
Coached by her father Max Yeater, and cheered on by mom Melanie and sister Taryn, Jada has been toeing the free-throw line since she was but four years old.  This year Jada advanced through the local, district and state levels of competition to stand in the national spotlight for her age category.
According to Rod Jussila, Lakewood Elks Hoop Shoot Director, the Elks Hoop Shoot is the largest children's athletic competition in the nation and is free to all boys and girls ages 8-13.
Like all participating youth, Jada's national hopes began with hoops at her local school – Oakwood Elementary where gym teacher Ted Henderson conducted the contest.  Jada continued her winning ways in successive competitions at St. Francis Cabrini, districts at Roger's High School, state at Bellevue, regionals in Portland and now she's on her way to the birthplace of basketball.
On April 20 you can cheer Jada from home by using the live Elks Hoop Shoot shot tracker.  Visit www.elks.org/hoopshoot.
Perhaps President Obama will want to log on as well for pointers on improving his shot percentage.
For further information please visit www.elks.org , Lakewood Elks Lodge #2388, 6313 75th Street West, Lakewood, WA 98499-8369, 253-588-2388, Rod Jussila-Lakewood Elks Lodge Hoop Shoot Director, www.veteransfireprotection.com , 253-USA-VETS.