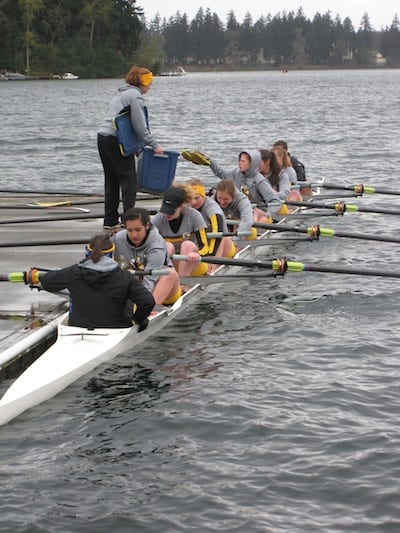 By Nancy Covert
Early on a blustery, soggy morning in April 2013, teams and fans arrived at Harry Todd Park on Tillicum's west side and staked out their spot to watch the 50th annual "running" of the Meyer-Lamberth Cup. Dozens of vehicles filled the park's lot, with the excess lining the road outside the park.
Cheers and chants ("UPS! UPS!) echoed from spectators—that included a tall Logger mascot—accompanying the rowers in their grey/crimson or black and gold uniforms as they hoisted their shells and marched their thin-shelled crafts to the dock.
In unison the rowers stepped from the dock into position and maneuvered their crafts into the middle of the lake before rowing to the lake's north end for the race start. Although the first rowers were out of sight around the corner of the lake for the first portion of the 2,000-meter event, once the first shell rounded the corner, spectators began cheering, and UPS fans erupted with delight when the UPS boat crossed the finish line first.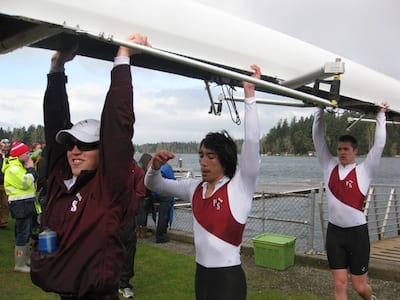 Once all six races were completed, winners gathered at the boathouse to accept their trophies: cups for the Meyer and Lamberth races, and the Little Lamberth and Mini-Meyer. Trophies also were awarded for the Neils Cup and Johnson Cup.
Ever since the first canoes traveled American Lake's length, hundreds of years before the British arrived—countless fishing boats, Skidoos and seaplanes plied the lake's waters.
Beginning in 1964, the Lake became the setting for the Meyer-Lamberth competition.
The regatta between PLU and cross-town rival University of Puget Sound Rowing is the oldest annual dual regatta on the west coast of the United States.
During the race's half century of competition the record to this date is: PLU: 29; UPS: 21, with UPS winning 12 of the last 12 regattas (including Saturday's event).
Spectators that morning included one mom who'd arrived from Las Vegas to watch her twin daughters compete. UPS, she explained, hadn't been among the schools her daughters considered attending, at first. Once they learned about the rowing, though, they applied.
Across the sloping park lawn stood a quartet of alumni racers—representing both schools. One of the men said he'd participated in the 1967 race. How was it? "Colorful," he replied.
Since opening in 1997 the Harry Todd boathouse in Tillicum has been home to CBRC and collegiate crews from Pacific Lutheran University and University of Puget Sound. With four active boat bays, a work bay, and banquet and meeting facilities, this modern boathouse provides South Sound rowers with access to some of the best rowing water in the Northwest.
Meanwhile on Silcox Island, midway across the lake's southern end, residents' boats were moored around the island's perimeter, much like cattle in the barn. It didn't appear that any islanders were awake at 9 to watch this historic race.
Other race details can be viewed at loggerathletics.com; then access Men's Sports: Crew