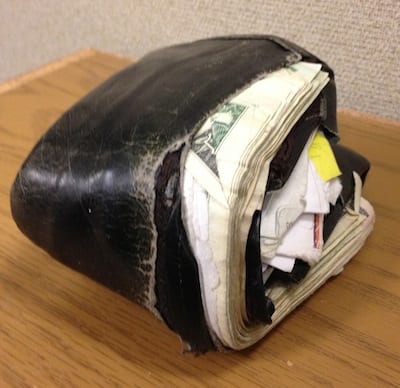 Story & Photo – Joseph Boyle
Guys, we are always talking about women carrying big purses.  I wouldn't say anything more about that if you have a wallet like my pal's shown in the photo.
If you are sitting on this hump of beef skin, you are going to have back trouble.  Dr. Joe recommends putting the wallet in another pocket.  No, I am not talking about moving if from the back left pocket to the back right pocket.  Try a front pocket.
Oh, how about putting your wallet on a diet?
For more enlightening and entertaining information, see George Castanza's Exploding Wallet, originally seen on the Seinfeld Show.  You will laugh and just for a moment, you can forget any troubles you might have, except for your back trouble if you sit on a wallet as big as George's.