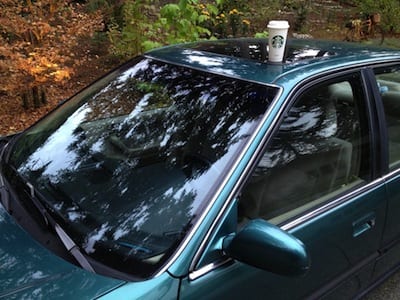 Story & Photos – Joseph Boyle
I have hundreds of stories I could share with you regarding the concept "Negative & Positive Set-up".  Let me just share a few negative set-up stories with you.
NEGATIVE SET-UP: How about the guy who put a briefcase on the top of his car?  This happened years ago.  He is still looking for the briefcase, which was stuffed with thousands of dollars and a gun.
NEGATIVE SET-UP: A tourist from Canada sat on a wood bench in front of the leather shop in Oatman, Arizona, which is a ghost town, located on Old Route 66.
She placed her purse next to her thinking she would surely pick it up when she finished resting.  She stood up and walked away leaving $750 cash, bankcards, driver's license, passport and a ton of important items sitting on the bench.
People lose restaurant doggy bags, sunglasses, wallets, jackets, hats, cell phones and the list goes on.  More likely than not, you have some negative set-up stories of your own.
If you understand the problem of negative set-up, you might appreciate the solution of positive set-up.
Here is how positive set-up works.  Instead of placing the item in negative set-up position, you place it in a positive set-up position.
Using the examples above, the briefcase could have been placed on the hood of the car in front of the steering wheel.  Once he sat down to drive, he would look out and be reminded of his briefcase.  Of course based on the value of the contents, immediately locking the briefcase in the trunk might have been preferable.
The purse in Oatman could have been placed on her lap.  Another positive set-up would be to put her keys next to or inside the purse. She would recognize as soon as she reached the car that her keys were missing.  She would then be reminded of her missing purse.
She could then run back to retrieve the purse and keys.   Of course before placing her keys next to or inside her purse, she should weigh the likelihood that a criminal might steal her purse and keys and then drive off with her car.
Thinking about how to tactically put our stuff down is the main thing we can do to prevent losing our stuff.
Check out my photos to get a clear picture of what I tried to say with words.
If you have a fun Negative Set-Up story of your own, please write in to share your experience?