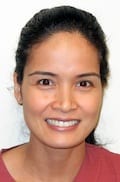 Jennifer Iyulores-Ing, R.N., W.C.C. takes great pride in the recent addition of those three certification letters to her name beyond her R.N. degree.  W.C.C. indicates that she has taken advanced, specialized training in the care of complex wounds.  In November, she received formal acknowledgement that she is officially a Wound Care Certified nurse.  Nurses with Wound Care Certification are in high demand.
Since 1997, Iyulores-Ing has been employed by University Place Care Center in skilled nursing and rehabilitation.  She began her career as a Certified Nursing Assistant (CNA), went on to become a Licensed Practical Nurse (LPN), and has been a Registered Nurse (RN) for the past ten years.  She has demonstrated loyalty to her patients and her team in University Place.
The Wound Care Certification program is comprised of intensive training that is highly regarded and respected throughout the health care industry.  Iyulores-Ing traveled to Seattle from her home in Thurston County daily for the advanced training.  Her dedication and energy seem boundless.