Story & Photos – Joseph Boyle
You just never know what you are going to see if you keep your eyes open. I was visiting the Starbucks on Steilacoom Boulevard when I happened upon a very unusual collector car in the parking lot.
It is a mint condition French 1960 Renault 4 cylinder 4-door. Between the years 1947 – 1961, they manufactured 1,105,543 of these roller skate size economy cars. The car weighs 1,400 pounds and is propelled with 905 cc liquid cooled engine. The engine is smaller than my 1985 BMW K-100 motorcycle. Top speed for the Renault is 75 mph with 40-mpg performance for fuel consumption.
Check out my photo of the unusual hood ornament. Four horses lead the way.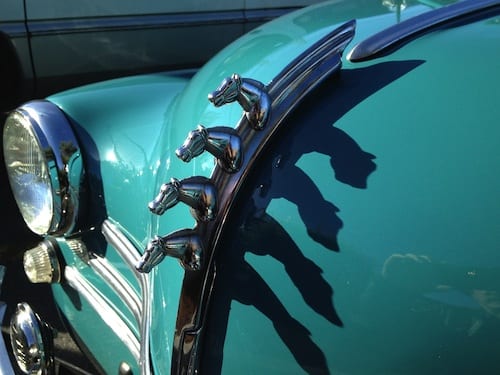 It is a rear engine rear wheel drive car with suicide doors on the front.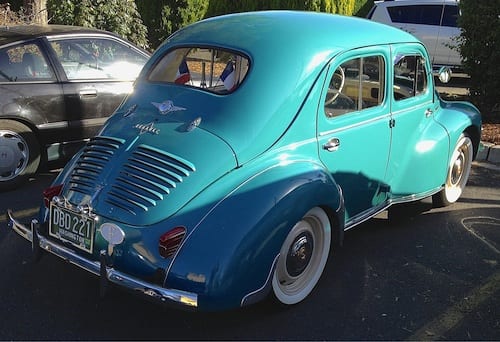 It was thought to be superior to the Volkswagen, but was never able to capitalize on this advantage due to a poor dealership network.
Oh, and the owner added a final detail during the restoration. There is a bottle of Grey Poupon Dijon mustard installed in the engine compartment. "But of course". Now this is a classy touch.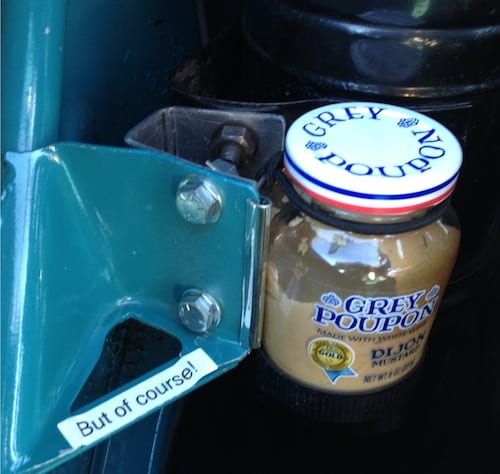 It is truly a rolling history museum piece.
According to Wikipedia the Renault brothers, Louis, Marcel and Fernand founded the company in 1899. From the very start, they were involved in racing company cars resulting in Marcel being killed in a crash during the 1903 Paris to Madrid race.
During WWII, Nazi Germany took control of the Renault factories. Renault refused to make tanks for the Germans and instead manufactured lorries (trucks) to be used by the Germans during the war.
The allies made some of the largest bombing runs of the war in their successful effort to destroy the Renault factory operation.
In September 1944 Paris was liberated. The provisional government accused most auto factory executives of collaborating with Nazi Germany, including Louis Renault.
On September 23, 1944, Louis Renault was imprisoned to await trial. He professed his innocence. On October 24, 1944, Louis died in prison under unknown circumstances before getting his day in court.
President Charles de Gaul expropriated the Renault factories under the hazy cloud of untried accusations directed at Louis Renualt. This action was obviously accomplished posthumously. A dead man cannot complain.
On January 16, 1945 the Renualt factories were nationalized and remained permanently in that status until 1996 when the factories were once again privatized in order to generate a more successful business model.
There is a lot more to this story, but I know you have other pressing matters to get back to, so I best stop at 446 words.