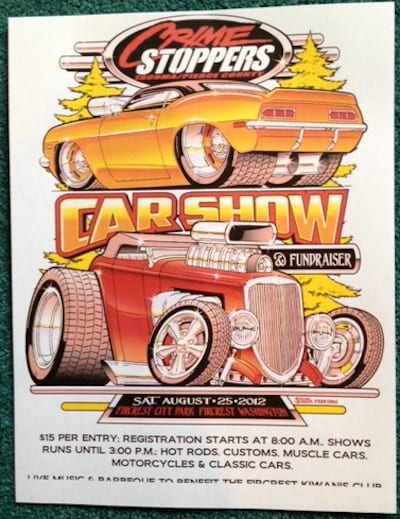 Story & Photo – Joseph Boyle
Car lovers, don't you just love summer with all the fun car things to do?
On Saturday, August 25, 2012 from 8:00 a.m. to 3:00 p.m. there is free fund raising car show with music and a BBQ.  The event will be held at the Fircrest Park located at 471 Electron Way, Fircrest, Washington 98466.
The car show is free for lookers and will include hot rods, muscle cars, classic cars and motorcycles along with several vintage police cars.
For those of you who would like to enter your car, you only have to slide $15 out of your money clip or purse as an entry fee.   There will be awards for the Top 20 "Most Wanted" vehicles.
The proceeds from the car entry fees will be donated to Crimes Stoppers – Tacoma Pierce County.
Crime Stoppers helps all of us.
Of course if you are a criminal you should not support this kind of community effort, since Crimes Stoppers may well lead to your ultimate downfall.
For more information on the car show and Crime Stoppers, check out their web site at www.tpcrimestoppers.com.
The funds generated by the Barbeque flow to the benefit of the Fircrest Kiwanis Club. Kiwanis Club is a good cause too because they are always working to make our community a better place.
See you at the park.  Don't forget your camera.