Story & Photos – Joseph Boyle
A couple of weeks ago, six of us motored down to the Lobster Shop Restaurant on the Ruston Way waterfront.
After being seated at a nice table overlooking Puget Sound, we noticed a Canada goose and her future family of 7.  Her nest was in the flower box just on the other side of our double pain window, about 10' above the water, right next to our table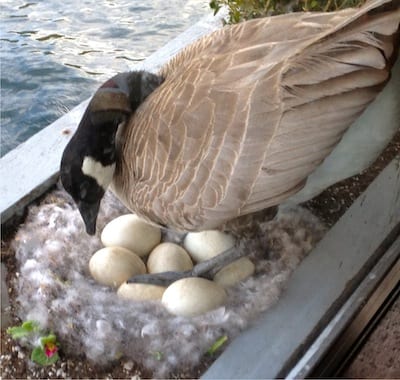 While we enjoyed a lovely "Twilight Dinner", Mother Goose gave us great entertainment.
If you have not been to The Lobster Shop, I recommend you give it a try.  I like their Twilight Dinners.  You save money.  The portions are correct for America's fight against obesity; yet we did not go away hungry.  There are good parking spots early in the evening and you have a shot at a great view table since the crowd is moderate.
Twilight Dinners are from 4:30 pm to 6:00 pm each day.  The 2-course meal is $17.00.  The 3-course meal is $19.00.  You start with soup or salad, followed by a selection of entrées, desert and some beverage specials.  The choices in each course are fabulous.  You cannot go wrong with any selection you decide upon.
I recommend the crème brulee for desert.  I get it every time.
Check out the Lobster Shop website at www.lobstershop.com.   The site includes the menu for their Twilight Dinners too.
There are two Lobster Shop locations.  One is on Ruston Way water front (4015 Ruston Way, Tacoma, Washington / Phone: 253-759-2165) and the other is on the other side of the bay at Dash Point over looking Puget Sound (6912 Soundview Dr NE, Tacoma, Washington / Phone: 253-927-1513).  Each location has its own individual feel.
Oh, you will not find Canada goose on the menu to be sure.
Enjoy!