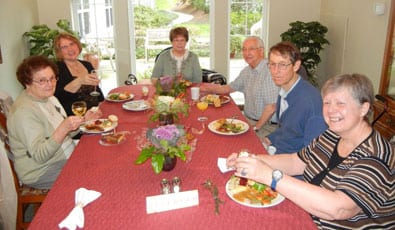 By Jaynie Jones
The University Place Senior Center and Bridgeport Place partner on a variety of programs throughout the year.  A number of seniors who participate in bingo and other activities at the center have become regulars at the monthly Saturday Senior Soup-tacular at Bridgeport Place.  November 19 was the Champagne Harvest Brunch at Bridgeport Place.  The Soup-tacular is always held on the 3rd Saturday of each month.  For a special surprise, all of the 'regulars' who attend the Soup-tacular were treated to the Champagne Harvest Brunch.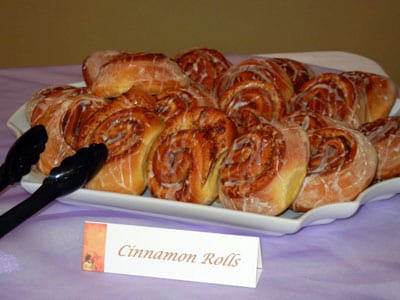 Instead of just the freshly made soup du jour, it was the pull-out-all-the-stops brunch feast including roast turkey, dressing, mashed potatoes, gravy, salmon, colorful salads, cinnamon rolls, pecan pie, pumpkin mousse, and mimosas.  The Soup-tacular guests enjoyed the 'full meal deal' as a special treat.  Residents and their families and other guests all ate to their heart's content for the special occasion.
December 17 is the next Senior Soup-tacular. Serving begins at 12:00 noon and ends at 1:30 p.m.  It is a free event and all seniors are welcome to attend.  Reservations are not required.  It is a casual, social, drop-in event.