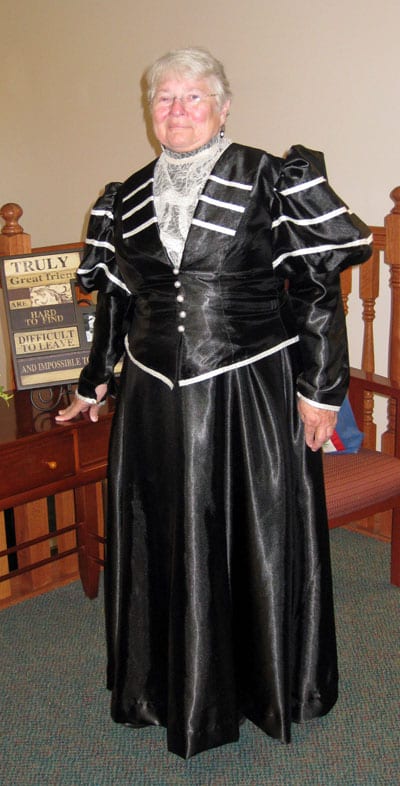 By Jaynie Jones
An historical lecture about a young girl who arrived in Steilacoom in 1853 was presented for the residents of Bridgeport Place as the kick-off event for National Assisted Living Week.
Sunday afternoon Nancy Covert (above), a freelance writer, author, and journalist who has immersed herself in Steilacoom's history for more than 20 years gave an outstanding lecture on pioneer Laura Belle Downey Bartlett (below), left her mark on 'The Town on the Sound' in many ways.
Covert provided a biographical summary on Laura Belle Downey Bartlett that is chockfull of surprises:
Laura Belle Downey Bartlett was born on Aug. 18, 1851 in Missouri; she emigrated with her parents and many of her brothers and sisters in 1853 to Washington Territory, via the Naches Pass. That crossing was just the start of her life of adventures; (at) age 2, (she) fell into the river on one of the wagon train's 68 crossings! Laura Belle saved her basket and doll! The basket is just one of many artifacts in the Steilacoom Historical Museum's collection. Along with more than 300 photos and other artifacts.
The Downeys were members of the Biles/Longmire Wagon Train and Mr. Downey took out a donation claim at the site of the current National Park Lodge.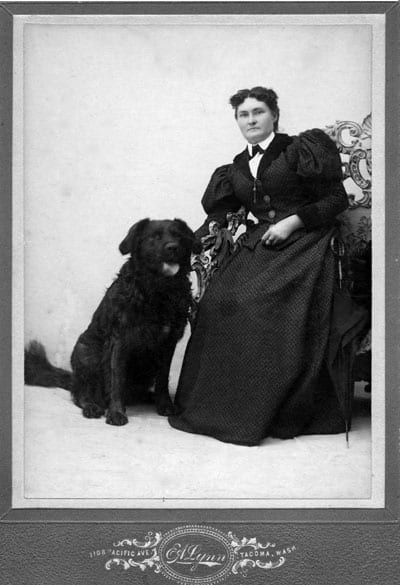 In later years Laura Belle became a translator of Chinook, a mining engineer, a musician and an author. She wrote and produced an original five-act musical in 1916 in Tacoma and in Portland.
Covert appeared in conjunction with her volunteer work with the Steilacoom Historical Museum Association in period costume for the lecture about Laura Belle Downey Bartlett. The residents were mesmerized by her fascinating, fact-filled presentation.
National Assisted Living Week is celebrated September 11 – 17 this year. Bridgeport Place is presenting an array of special events and programs daily focusing on special memories from decades past, e.g. Theatrical Glamour of the Roaring '20s, the Golden Era, a Spam Carving Contest, Jitterbug, 'Happy Days' Soda Fountain and Live Music performed by Tom Brooks featuring Hits of the '50s, a Peace-in from the '60s, and a Retro Look at Television. Bridgeport Place is located in University Place and is locally owned and operated by http://soundcareinc.com.