Story and Photos by Joseph Boyle
Towards the end of May, I was able to beat the grim reaper out of another year.  In plain English, I showed up alive for my 68th birthday.  My wife invited me out for a birthday dinner and I suggested Kimberly Jimenez's Italian – American Restaurant called Vive Bene Restaurant located at 11126 Gravelly Lake Dr SW in the City of Lakewood.  It has been a favorite place for us.
As usual, Kim's service was excellent, personable and fun.  The food was an exciting adventure for our taste buds.  We also enjoyed a bottle of wine on ½ price wine night.  Our deserts were spectacular as you might tell by viewing the attached photo.
That is the good news.  The bad news, for us, the citizens of Lakewood, is that my birthday dinner was a "Last Supper" of sorts.
Kim has sold the restaurant after five years of successful operation.  Thank you Kim for your fantastic contribution to our Lakewood community.
Kim, a City of Lakewood resident for many years, has served us as a Business Education Teacher at Clover Park High School since about 1987.
With a food service background as an employee of Black Star Coffee for 2 years and an employee of Black Angus Restaurant for 14 years, it was an easy transition to become a restaurant owner.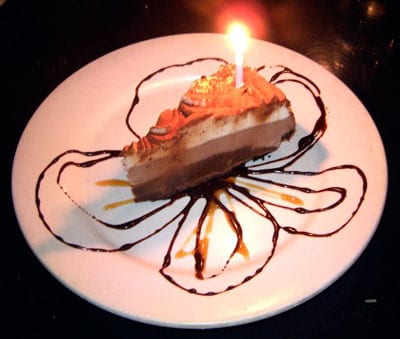 It was during our "Last Supper" that Kim shared the news with us.  We returned two days later and had our last desert and then she closed the doors to Vive Bene forever.
Kim, I am certain all who know and love you will wish you well with your new "business-less" life style.