Story & Photos by Joseph Boyle
Driving Southbound on Gravelly Lake Dr SW past Clover Park High School towards Nyanza Dr SW at the posted 30 mph speed limit, it is darn near impossible to leave the roadway, crash through the white brick fence and end up parking inside a condo owner's living room.
During the past three decades, I have seen the aftermath of driver's achieving the impossible as they crash their cars through the brick fence; at least a dozen times.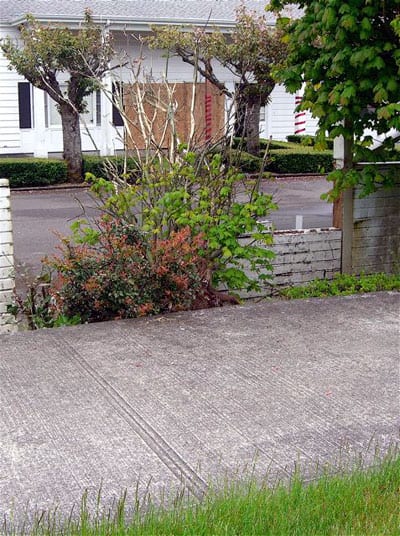 How do these drivers accomplish the seemingly impossible?  The answer involves some element of excessive speed, well above 30 mph, and possibly alcohol and / or drugs.
Several years ago the City of Lakewood and Keep Lakewood Beautiful made some attractive enhancements to the area with a lovely grassy berm, sidewalks and a park bench.  I love what they did.  While I enjoy how it looks, there is a design flaw.  Sixty seconds after I first saw the berm, I recognized that the city had taken a significant problem and made it bigger and potentially more deadly.
I predicted that the city built berm would serve as a ramp to launch vehicles into the condo complex, Clover Creek Crossing.  Prior to the berm, the brick fence would be destroyed, which was problem enough, but the offending vehicle would be stopped in or before the condo parking lot; never reaching the building.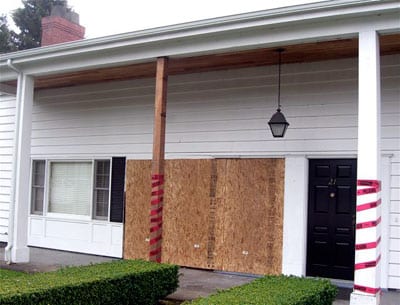 When I talk about ramping or launching a vehicle, anyone having watched Evel Knievel, Starsky and Hutch or Dukes of Hazard knows what I am describing.
Well, it happened; a sad prediction came true.  In the wee hours just after Friday the 13th of May, 2011, a vehicle being operated at high speed Southbound on Gravelly Lake Dr SW, failed to negotiate the curve.  The car used the City of Lakewood's landscape berm as a ramp and launched into the living room entry of the condo.  The stairway inside the condo leading to the second floor bedroom area stopped the car.
The root of this problem is related to engineering.  If we do not get an engineering solution, the next disaster might include a fatality as a flying car crushes a homeowner or guest.
If you think my observations lack merit, let me make a tongue in cheek suggestion.  The city could make the berm higher to see if a driver can launch a vehicle into the second story bedroom area thereby skipping the stairway.
I do believe the predictable problem has been confirmed.  The question now is, will the city develop and implement a solution that will help eradicate the safety hazard and simultaneously maintain an attractive appearance for the intersection?
My comments are not meant to be critical of our city or Keep Lakewood Beautiful.  It is simply my hope that this problem comes to the attention of someone who has the ability to generate a quality solution before someone is killed at this Keep Lakewood Beautiful site.