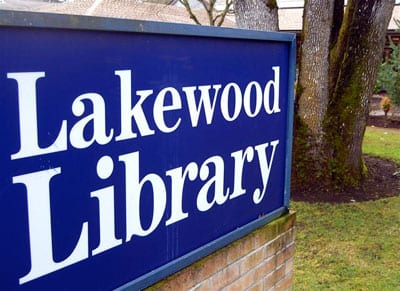 By Joseph Boyle
50 cents?  That's right!  I bought a John Grisham paperback that retails for $7.99 for 50 cents at the FRIENDS of Lakewood Library Book Sale.
Do you love to read?  Do you love to save money?  Do you love to support your library?  If you do, let me tell you what is happening at our Lakewood Library located at 6300 Wildaire Rd SW, just off Gravelly Lake Dr SW across from Clover Park High School in the City of Lakewood.
In March and October of each year FRIENDS of Lakewood Library host a multi-day book sale in the library basement.  Money raised supports the Lakewood Library and the Tillicum Library, both of which are in our City of Lakewood.
Ok, so here is what you need to know. You can find out all kinds of information by going to the calendar tab of the Pierce County Library website which is www.piercecountylibrary.org.  There are two book sale events remaining.
Members Only Pre-sale on Tuesday, March 15, 2011, from 5:30 p.m. to 8:00 p.m.  There are no limits on what you can buy at this sale event.  You can become a member the day of the sale.
Public Sale on Friday March 18, 2011 and Saturday, March 19, 2011.  The hours for both days run from 10:00 a.m. to 4:30 p.m.
Anyone may attend this event.  You do not have to be a member of the FRIENDS.
The used paperback books, hardback books, CDs, DVDs, VCR tapes, magazines, 45 – 33 1/3 & 78 phonograph records, maps, old books, large print books are all donated to the FRIENDS. Yikes!  If you are interested in children's books, don't miss this sale.  There are tons of children's books.
FRIENDS of Lakewood Library have been helping our libraries since 1960.  Let's help the Friends help us.