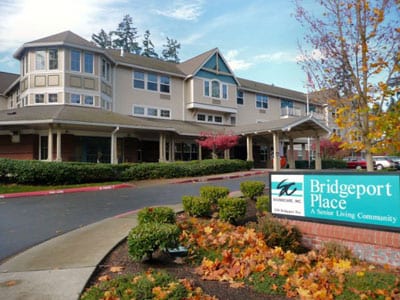 Bridgeport Place Retirement and Assisted Living announces the addition of senior adult day services in University Place. Services provided by the Stay a Day program are designed to give family caregivers the peace of mind that their loved one is in a safe environment with his or her needs being met while at the same time creating an opportunity for the caregiver to work outside the home, tend to family needs, go grocery shopping, attend school, or simply for a break from the routine of caregiving for a senior family member in the home.
Community Relations Coordinator, Jaynie Jones, says, "Families are welcome to schedule an appointment in our hair salon or spa with our massage therapist as a way to help their loved one become familiar and comfortable with coming to Bridgeport Place prior to even beginning their Stay a Day enrollment." Jones added that, "Candidates for the Stay a Day program must first schedule an Assisted Living assessment with our Wellness Director just as for any resident; a copy of their most recent History and Physical, and a signed Medication List from the primary care physician are required."
Hospital care managers, discharge planners, and social workers are often seeking available accommodations for hospital patients being discharged who may not quite be ready to be at home alone on their own for a full day initially following discharge. Respite care or the Stay a Day program can be tailored to the individual's unique needs.
Bridgeport Place has long offered Respite care stays for a minimum of 5 days up to a maximum stay of 30 days; however, with the launch of the Stay a Day program for up to 8 hours of services on the weekdays, it makes it an even more affordable and flexible option for seniors on a day-to-day basis.
Stay a Day services are available Monday through Friday from 8 a.m. to 6 p.m. Participants receive assisted living services (medication assistance, diabetic management, etc), as needed; Assisted Living fees apply for individual services; however, all meals and scheduled activities are included and available to each Stay a Day senior.
Bridgeport Place http://bridgeportplaceassisted.com is located at 5250 Bridgeport Way West, University Place, WA 98467, and is one of four communities locally owned and operated by Soundcare, Inc. http://soundcareinc.com. More detailed information about the Stay a Day program can be obtained by calling 253.565.1960 or via e-mail inquiry to bridgeportmarket@comcast.net.