At a recent luncheon/brainstorming session the financial plight of the University Place Senior Center was discussed in detail.  Jennifer Robinson, Recreation Supervisor for the City of University Place, explained the impact of budget cuts on staffing and the day-to-day operation of the Center.  Robinson revealed that the previous budget had been slashed from more than $900,000 per year to approximately $120,000.  The Senior Community Center had been slated for closure, but after the outcry from those most affected, the current level of dramatically reduced funding was provided.  She added that the ongoing functioning of the Center and its services is quite literally on a month-to-month basis.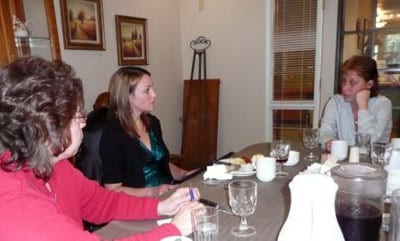 In addition to Robinson, those present were Jeanne Frew, Admissions Coordinator from University Place Care Center, Sandy Nelson, Executive Director of Bridgeport Place Retirement and Assisted Living, and Jaynie Jones, Community Relations Coordinator for Bridgeport Place. Nelson pinned Robinson down for specifics about just exactly what is and will be needed by the Center to help it continue to function and provide the services that local seniors rely on.
Among many items that were mentioned (see list below and consider how you and your family or your business might be able to help):   Internet access for several computers so that seniors can continue to enroll in the computer classes offered at the Center.  Previously four computers had been donated to the Center, but had had to be put into storage, because there was no way to pay for the Internet service.
On behalf of Bridgeport Place, Nelson pledged to pay for the installation of the Internet access and the first three months of service.  Other businesses or individuals will need to carry the ball beyond that point committing perhaps for a three-month period of time in support of that.  Each department at Bridgeport Place has committed to supplying numerous items to the Center each month. For a long time the bingo prizes, and each month's birthday cake baked at Albertson's have been provided by Bridgeport Place.
Among other items on the Needs/Wish List were coffee and coffee filters.  Farmer Brothers Coffee generously has stepped up and agreed to donate those supplies.
Ideas for fundraising were floated and continue under discussion and development including donation jars or boxes on the counters of local merchants where citizens could contribute monetarily specifically for the operation of the University Place Senior Center.  Events that are upcoming will include a Swap Meet in the parking lot at Narrows Plaza Bowl, and a Lasagna Dinner with all proceeds going directly to funding the Center's operations.
Donated items can be taken directly to the University Place Senior Center, 2534 Grandview Drive West, or Bridgeport Place, 5250 Bridgeport Way West.  Each month all of the items collected will be delivered to the University Place Senior Center.   Already three brand new card tables have been purchased and donated to the Center.
Needs/Wish List for UP Senior Center and Senior Programs
Note:  Some items in the list have already been pledged or donated, but needs are ongoing
Specific Areas of Operation for Monetary Donations
Senior Drop-in Programs – bingo, bunco, cards
Senior Fitness classes
Facility needs – utilities:  power, lights, sewer
Internet connection installation and first three months fees
Internet service (monthly fees)
Senior Special Events – monthly special events such as tea party, summer BBQ
Center supplies – coffee, tea, paper plates
On-going needs
Coffee (about 3 lbs per month regular and about 2 lbs per month decaf)
Powdered Creamer (about 16 oz every 3-5 weeks)
Tea (minimally used)
Sugar (packets)
Sugar substitute (packets)
Stir sticks (one big Costco bag lasts about a year)
Water cups – small paper (20 – 30 per month)
Napkins – as needed
Paper plates (small) – as needed
Bingo Prizes – $1 store items, canned food, useful items (10 per Friday)
Bunco Prizes – 2-3 $3 – $5 gift items – useful, house plants, gift cards, etc (3-5 per month)
Address Labels – Avery 5160 laser labels (6-8 boxes per year)
Bridge cards (6 new decks per year)
Pinochle cards (6 new decks per year)
White & colored copy paper (2-3 reams of white per month, 1 ream of colored per month)
Annual needs
New card tables (currently need to replace 3 card tables)
New/updated fitness equipment
Hand weights
Resistance tubing
Fitness mats
Ankle weights
Stand up Halogen Light(s) – used during yoga and Pilates (currently need 1)
Additional coffee cups (large donation – no more needed)
Dish rags/wash cloths (8-12 new per year)
List supplied by Jennifer Robinson, Recreation Supervisor, City of University Place; contact her with questions at 253.564.1992 or by e-mail to:  jrobinson@cityofup.com